The term Cast Iron describes a large family of ferrous alloy. It contains 2-4% carbon, along with silicon, manganese. Cast irons are produced in specified shapes for processing by machining, heat treating, or assembly. Sometimes, to meet certain requirement it can be forged or rolled. Cast iron is produced by melting pig iron and then combining it with steel or scrap iron.
Normally, cast iron contains silicon up to 3%. Though, it may vary while making special compositions, such as:
Silal : Silicon up to 6%
Duriron : Silicon up to 12%
You can purchase cast iron in various commercial grades, such as gray iron, chilled iron, mottled iron, white iron, malleable iron, ductile iron, spheroidal graphite iron, nodular iron, and austenitic cast iron.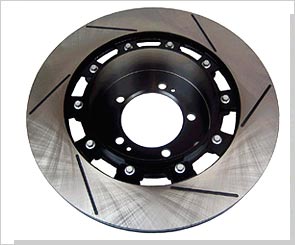 Cast iron is produced by melting pig iron. Often, this melting is done along with scrap steel and scrap iron. It also involves a number of steps that leads to the removal of undesirable elements (phosphorus and sulfur).
The main purpose of this processing is to reduce carbon and silicon content to the desired levels. Then, the addition of other elements to the melt takes place.
A small blast furnace known as a cupola is used to melt iron.
After melting is complete, the molten iron is removed from the forehearth of the blast furnace.
The final form is made by casting.
Types of Cast Irons During solidification, the major proportion of the carbon precipitates in the form of graphite or cementite. When solidification is just complete, the precipitated phase is embedded in a matrix of austenite which has an equilibrium carbon concentration of about 2 wt%. On further cooling, the carbon concentration of the austenite decreases as more cementite or graphite precipitates from solid solution. For conventional cast irons, the austenite then decomposes into pearlite at the eutectoid temperature. However, in grey cast irons, if the cooling rate through the eutectoid temperature is sufficiently slow, then a completely ferritic matrix is obtained with the excess carbon being deposited on the already existing graphite.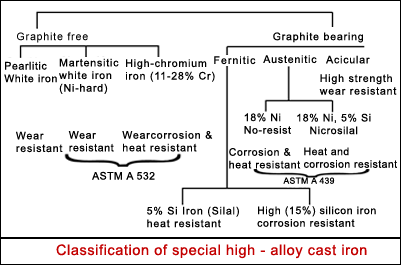 White Cast Iron : White cast iron is hard to be machined as it's tough and brittle.
Grey Cast Iron : Due to the presence of microstructure of graphite in transformed-austenite and cementite matrix, grey cast irons are softer.
Spheroidal Graphite Cast Iron : The chemical composition of the cast iron is similar to that of the grey cast iron but with 0.05 wt% of magnesium.
Ductile Cast Iron : One of the most popular alloys used in casting. It has wide applications including automobile components, industrial machinery, wind turbine electrical energy generation, valves, air conditioning machinery, lawn and garden equipment and agricultural products.
Spheroidal Graphite Cast Iron : Spheroidal graphite cast iron is known for its excellent toughness and has wide applications, e.g. crankshafts.
Cast Iron Alloy Castings Cast iron alloys are widely used in casting applications for their characteristics, such as strength, good strength to weigh ratio, economical price, and availability in abundance, capability to produce complex geometries. The cast iron castings are used in a variety of applications, such as automotive, agriculture, appliance, and more.
Advantages in Casting:
A family of materials that is capable to meet a variety of engineering and manufacturing applications (the "family", includes - gray iron, ductile iron, compacted graphite iron, malleable iron, and white iron).
Capability of casting with inserts of other materials.
Capability to produce highly complex geometries and sections in variety of sizes.
Possibility to cast intricate shapes as well as very thin to very thick section sizes.
Good strength to weight ratio.
Generally economical than competing materials and relatively low cost per unit of strength than other materials.
Superior damping capacity, especially in Gray Irons.
Capability of redesigning and combining two or more parts from other materials into a single casting, thereby reducing assembly time and cost.
Different types of casting processes for low, medium or high production.
Variety of iron castings can be used without heat treatment (as cast) however, if required, they can be heat treated to improve the overall properties or specific properties such as surface hardness.