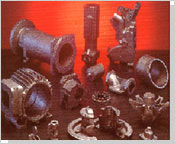 Ingenuity and new technological advancements are transforming todays' metal casting industry that has become innovative, high-tech, challenging, clean, and safe. Multiple processes have been developed in the industry where each process is specific to the metal used and the results desired. Within each process there are several variables that impact the design of final product. Today, castings are used in a number of markets in a variety of applications that range from manufacturing to home decor.
The diverse range of casting alloys and their flexibility offers the selection of most economical materials to fulfill the prerequisites of a specific application. Every single alloy has particular physical and mechanical characteristics, as well as its own casting properties, machinability, weldability, corrosion resistance, heat treatment properties, and other characteristics.
The metal casting process today has become integral to manufacturing industry and can be used to create complex geometric parts with relative ease, irrespective of the size of part. Cast metal products are found in 90% of manufactured goods and equipment including critical components for aircraft and automobiles to home appliances and surgical equipment. Also, the process is very economical and generates little waste, which can be reheated and used again.
Some of the major casting components are -
Automobile Casting Equipment
Pumps and Valves Component
Scientific Casting Equipment
Aluminum & all other Non Ferrous Parts
Chemical Process Equipment
Earthmoving Equipment
Agriculture Equipment
The table given below shows the the different types of casting components and their share in the US market.
| | |
| --- | --- |
| End-Use Markets | Percent of Castings Shipped |
| Automotive & Light Truck | 35% |
| Pipe & Fitting | 15% |
| Construction, Mining & Oil Field Equipment | 6% |
| Internal Combustion Engines | 5% |
| Railroad | 5% |
| Valves | 5% |
| Farm Machinery | 3% |
| Municipal Casting (manhole covers, grates etc.) | 3% |
| Pumps & Compressors | 2% |
| Other Markets | 21% |
Automobile Casting Equipment
The automobile industry is a major market segment for cast products using ferrous, non-ferrous metals and its alloys. Different casting techniques and methods are used to design automobile components, which are light in weight, easy to maneuver and economical.
Zinc die casting and aluminum die casting are two of the most popular methods that are used to create cast components for automobiles.
Pumps & Valves Components
Metal casting is integral to the manufacturing of valves and pumps as it lends itself readily to design the complex geometries of valves and component. Sophisticated casting techniques have been developed that can be used to leverage the advantage of very close tolerances and consistent quality.
Valves and pumps can be made either by using ferrous or non-ferrous metal casting techniques. Examples of ferrous casting include malleable iron casting, gray iron casting and ductile iron casting. Some of the common methods of non-ferrous casting are – silicon brass casting, red brass casting, tin brass alloy casting, and more.
Aircraft Components
Metal casting has long been favored for designing aircraft components. Casting methods are used to design and produce components of complicate geometries and shapes for civilian aircrafts, jet fighters and helicopters. Magnesium and aluminum metal along with their alloys present a variety of choices. This is because of the fact that these metals are light in weight, low density, possess excellent high temperature mechanical properties, good corrosion resistance and can function under highly demanding conditions.
Some of the aircraft components that the metal casting is used to manufacture are – engines, airframes, skins, fasteners, compressor blades, turbine disks, helicopter transmission casings, auxiliary gearboxes, generator housings, intermediate compressor casings for turbine engines.
Cast Iron Components
Known for their superior strength and long service life, cast iron components have emerged as the most preferred components for manufacturing industry. Cast iron components can also withstand high wear and tear and hence can be used in the most demanding conditions.
Grey iron with flake graphite and ductile iron with spheroidal graphite are the most popular methods to produce cast iron components.
Some of the important cast iron components for manufacturing industry include - fly wheels, machine bases, engine blocks, piston rings, brake, discs and drums; heavy duty gears, pistons, rolls for rolling mills, gear case, valves, tubes and door hinges; parts for heavy trucks, farm and earth moving equipment like axle journals, gear drives, crankshafts, pull hooks and wheels.
Scientific Casting Equipment
Because of its flexibility, ease of use and durability, metal casting is widely preferred across the world to design and create scientific equipment. A variety of alloy choices are available, where each alloy has its own mechanical and physical properties along with distinct casting characteristics that offer the selection of most economical materials to meet a particular application.
Some of the important scientific casting equipment are – test and measurement equipment, microscopes, centrifuges, autoclaves, imaging optics, and other lab equipment.
Chemical Process Equipment
Metal casting is one of the most preferred methods for producing chemical process equipment. Characteristics such as light weight and strength of cast components make them an ideal choice for chemical process equipment. Corrosion resistance is a major factor that is kept in mind before selecting a metal for this purpose. Titanium for anti-corrosive properties is preferred for making chemical process equipment.
Some of the examples of chemical process equipment are – production equipment that transports corrosive materials; manufacturing equipment, such as – reflux towers, filters and pressure vessels; heating coils in laboratory autoclaves and heat exchangers.
Earthmoving Equipment
Because of their superior strength, design flexibility and ease of use of cast components, metal casting is preferred for manufacturing earthmoving equipment. Some of the metal casting parts that are used in earthmoving equipment are - axle journals, gear drives, crankshafts, pull hooks and wheels.
Agriculture Equipment
Agricultural equipment enhance productivity and reduce drudgery, however, these equipment also have to withstand extreme conditions and heavy wear and tear. Practically, these equipment must also be affordable to the farmers and profitable for the manufacturers. These aspect of manufacturing productivity and efficiency of manufacturing equipment makes metal casting an integral process to this industry.
Metal casting is used to design and produce an extensive variety of agricultural equipment, including – measuring instruments, irrigation equipment, harvesting machines, fencing equipment, grain processing machines, water pumps, and more.
Aluminum & Other Non Ferrous Parts
Aluminum castings have always played a key role in the development of aluminum industry since its inception in the 19th century. The earlier aluminum products designed for commercial reasons were castings, such as cooking utensils and decorative parts that utilized the novelty and utility of this new metal. Those starting applications quickly expanded to treat the requirements of an extensive range of engineering specifications.