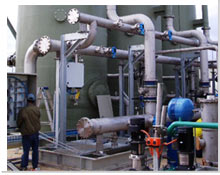 Before selecting any process here, the corrosion resistance factor has to be kept in mind. Light weight coupled with strength are the desirable characteristics. Again Titanium because of its anti corrosive properties is a preferred choice here.
Examples of Chemical Process Equipment :
Production equipment that transports corrosive materials, such as acid, alkali, and inorganic salts.
Manufacturing equipment such as vats, reflux towers, filters and pressure vessels.
Titanium tubing can improve the performance of heating coils in laboratory autoclaves and heat exchangers.