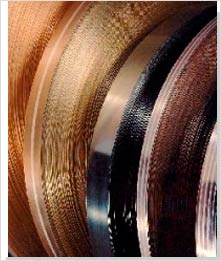 Clad metals can be defined as two distinct metals or alloys that are metallurgically bonded together to achieve the best possible combination of functional characteristics. Clad metals can be designed in plate, sheet, tube, rod, and wire forms. Majority of engineering metals and alloys can be clad. Cladding provides a technique of designing into a composite material specific characteristics, which cannot be obtained in a single material.
The bonding in clad metals can be attained by various processes, such as co-rolling, welding, co-extrusion, diffusion bonding, heavy chemical deposition, casting, or heavy electroplating. The early applications of clad metals in jewelry industry blended the aesthetics of precious metals and the low cost strength of base metals.
Types
The two important types of clad metals are -
Inlay clads
Overlay clads
These two types of clad metals are described in brief below -
Inlay Clads
Inlay clads exemplify one of the most sophisticated applications of clad metals. By using an inlay, designers can integrate materials such as platinum, gold, silver and palladium with less expensive materials such as brass, copper, and stainless steel. This combination puts the properties of a precious metal exactly where you require them, yet permits dissimilar properties such as heat sinking, spring and welding to be designed into a product.
Inlay cladding has various benefits over selective plating. The method allows the use of almost any wrought alloy, assuring a highly consistent composition, and allowing several alloys to be used that ordinarily could not be plated. Through careful selection of materials, a surface can be accomplished, which is more dense, hard and wear resistant than a plated surface.
The characteristics of clad metals ensure optimum bond integrity. Precious metals can be placed selectively to close tolerances that result in significant savings.
Overlay Clads
Overlay cladding is a method through which dissimilar layers of metals are bonded together. This is a metallurgical technique wherein no adhesives or filler materials are used. It is attained through the application of extreme pressure and, in some cases, heat. The process can produce what are normally called single clad (two layers), double clad (three layers), and in some particular instances as many as seven layers. Overlay clads can be custom made to meet the specific industrial requirements.
Some typical combinations of overlay clads for the semiconductor industry include silver double clad on lead, aluminum and tin alloys clad on all base metals including gold, tin, gold silicon and gold germanium clad on nickel iron, molybdenum, kovar, and copper
Combinations designed for the switch and electro-mechanical applications include silver and silver contact materials clad to all available base materials (kovar, phosphor bronze, copper and brass).
Advantages
Clad metals present the opportunity of combining desirable characteristics and / or properties of individual metals and alloys into a material system, which provides improved performance over the individual metals. Some of the important advantages of clad metals include -
Strength
Electrical Properties
Thermal Properties
Corrosion Resistance
Magnetic Properties
Wear Resistance
Density
Formability
Weldability / Joinability / Brazability
Conservation / Cost Reduction
Compatibility / Corrosion Resistance
Appearance
Industrial Applications
Clad metals have found uses in several, diverse and primary industrial applications. A list of different industries that use clad metals is given below - Some applications in the shipbuilding industry can be high value added, machined parts. Other applications may include large, flat plates weighing as high as 50 tons.
Industries
Chemical processing
Petroleum refining
Aluminum Smelting
Hydrometallurgy
Shipbuilding
Pulp & Paper
Oil & Gas
Electrochemical
Cryogenic Processing
Power Generation
Air conditioning & Chillers
Metal Production