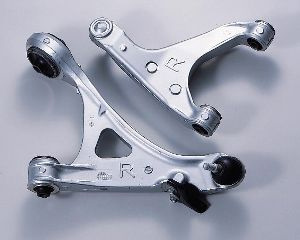 Semi-solid metal casting (SSM) is a virtually net shape production technique that gives manufacturers and users of copper alloy parts a substitute and, in various cases, an economical way to to manufacture bulk quantities of parts with superior component quality compared to conventional pressure die casting method.
The capability to apply SSM casting or die-casting with metal in a semi-solid state is an outcome of the successful evolution of a high temperature nickel-base alloy die system. This high temperature nickel based alloy die system prolongs the die life in die casting metals and alloys with high melting temperatures. As the process typically uses easily available cold chamber horizontal die casting machines as the casting unit; it has the potential for far-flung applications and uses by existing casting professionals equipped with such machines and technology.
Semi-solid metal casting is made with metal at a temperature between the temperatures of liquid and solid state, with the fraction solid being in the range of 30-65 % approximately. The semi-solid billet holds its form and shape and is suitable for loading into the shot sleeve of a traditional die casting machine. For the semi-solid metal to have adequately low viscosity, the structure at the working temperature should comprise of a globular primary solid state surrounded by the liquid state. The technical and economical feasibility of the Semi-solid metal casting process are ascertained, to a great degree, by the approach used to develop the starting stock with the necessary precursor structure.
Advantages of SSM Casting
As an advanced casting technique, SSM casting offers huge potential in saving costs, energy, and material, and in reducing the environmental impact of casting. The advantages are -
Virtually net shape processing.
Potential for enhanced tolerance control because of the inherently tight process temperature control related with SSM casting and reduced thermal cycling of dies.
Reduced thermal fatigue heat, reduced mold or die wear, and reduced solidification shrinkage as a result of the reduced feedstock temperature.
Lower shear strengths of semi-solid slurries, which are related with lower forming forces than fitting operations for solid metal.
Control of viscosity, which may result in less turbulent mold and die filling that minimizes the gas entrainment, shrinkage, porosity, hot tearing, and other solidification shortcomings.
Finer, more consistent, micro structures resulting in higher mechanical performance.
Superior material utilization in making small components because of the productivity and accurate introduction of metal into the forming dies.
Increased casting speed compared to liquid processing due to lower thermal demands on the dies.
As alternative for sand casting, SSM cast parts manufacturing gets rid of the environmental costs and troubles of reclaiming and disposing of lead-contaminated sands.
Permits for the lead content of red brasses to be highly reduced and, combined with a semi-solid charge, should enable alloys usually prone to hot tearing to be die cast.