Air release system is such a system that distinguishes a die from the typical slip casting mold. The main thing to reckon with is the placement of the air system in the die. This placement was once thought to be an art, but now by applying the scientific method desired results can be achieved with consistency. The results can be quantified and matched with one another.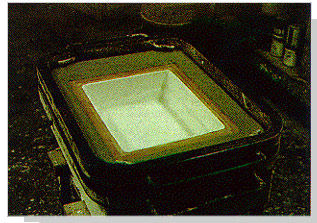 PROPER DISTANCE:
A good air system is that, which has the special tubing placed precisely at a distance of 1 inch away from the surface to be released. The air system ought to follow the shape of the part. Two inches of material has to be there from the back of the die to the air system.
LAYOUT OF THE DIE:
AIR TUBINGMuch thoughtfulness is required in the layout of the die also as the release of the finished part will surely be affected by it. If air does not cover whole of the pressed system homogeneously, results can be disastrous. The release might be delayed. Worse, it may cause the pressed part to move or bend during release. This happens because the release occurs sooner on one part of the article and later on the other part. As a result deformation may take place during drying. The items where chances of such deformation are large, jumpers are brought into use.
AIR TUBING:
Another thing that is vital is the air tubing called Molduct Tubing. Years of experimentation and hard work has proved that a grouping of cotton and paper is the best possible material for it. The paper becomes the base on which cotton is woven.
TIGHTNESS OF THE KNIT:
Precise number of cotton strands and the tightness of the knit, together determine the amount of air that would be released into the die. The tightness of the knit is important in another way also-it determines if the material that is used to pour die will be absorbed in the air channels or not. If this happens the air release will be stopped, the die will not be adequate and the parts will be defective.
STEEL CASTINGS:
Steel castings that support the die also cannot be ignored. They must be smooth, parallel and tough so that they are able to resist deflection, especially at some particular points of deflection at which the materials tend to crack. The die cases and press should be so designed so that nothing goes wrong at these points of deflection.