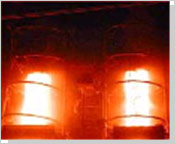 Hot forming process is used very frequently for casting of industrial products and parts. In this process, heat is applied to soften the piece of metal. This metal or raw material is available in the form of sheet, bar, tube or wire. Then some form of pressure is used to alter the shape of the metal. The hot forming process can form a variety of complex parts and hold relatively tight tolerances.
Most of the hot forming processes are complex in nature and involves adiabatic heating, die chill and microstructural changes. Hot forming process includes various operations in the manufacturing of high quality, critical components and parts. In most cases, the cost-effective production of near-net shape components depends on the interactions between casting, ingot breakdown, extrusion, closed-die forging, heat treatment and machining.
Advantages
The metal "springback" effect is reduced and the part's ductility is improved.
The desired shape is achieved with relatively low pressure and minimal residual part stress.
Produces superior grain flow and microstructure that improves the part's mechanical properties.
Relatively high production rates with minimal defects.
The following casting processes can be categorized under Hot Forming Process:
Centrifugal Casting
Ceramic Mold Casting
Extrusion
Forging
Full Mold Casting
Investment Casting
Permanent Mold Cast
Plaster Mold Casting
Powder Metallurgy
Sand Casting
Shell Mold Casting