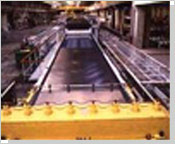 Typically it's a process in which the metal sheet or strip stock is placed between rollers and then compressed and squeezed. The amount of strain generated determines the hardness of the finished product. There can be numerous types of cold rolling mill, which can produce different types of rolled product, with thicknesses as low as 0.05mm.
Depending on the extent to which the cold work has been performed, Cold rolled sheet can be produced in conditions such as skin-rolled, quarter hard, half hard and full hard. This cold working (hardness) is referred to as temper, but this has nothing to do with heat treatment temper.
In skin rolling, the metal gets reduced by 0.5 to 1% and produces a smooth surface. Yield point is outstanding. Excessive wrinkling and stretching in subsequent operations, is eliminated. This helps the metal to become more ductile.
The reduction rate for Quarter Hard, Half Hard, Full Hard stock is around 50%. This increases the yield point, but ductility is reduced.
The USP of all these products is that they can be used in applications involving much bending and deformation without fracturing.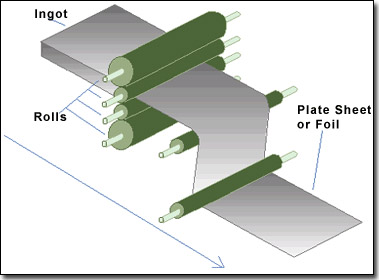 Applications of Cold Rolling Rolled products can be foil, sheet and plate.
Foil-The Thickness is less than 0.2 mm, used mainly in the packaging industry Foil is also used for building insulation, electrical applications and in the printing industry.
Sheet-Thickness ranges from 0.2 mm and 6mm, used for a wide variety of industry including construction where it is used in aluminum siding and roofing. Sheet is also used in transport sectors for making automobile body panels, airframes etc.
Plate-It is the rolled product, which is over 6mm in thickness. It also has a number of applications including airframes, defence vehicles and structural components in buildings.
The Advantages of Cold Rolling
Good Dimensional Accuracy
Excellent Surface Finish
Tight Tolerances Possible
Lubrication Easier