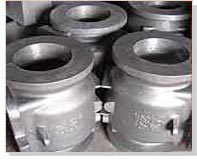 Ductile Iron A synthetic metal material, which was invented in the middle of twentieth century, Ductile Iron is one of the types of iron used to make cast iron. The metal has higher tensile strength than grey iron, which is traditionally used to produce cast iron products. Ductile iron, as the name suggests, is more ductile than other iron materials that tend to be more brittle and are prone to fracture under greater tensile stress.
Ductile iron castings are very thin molded products made out of iron or an iron alloy. Ductile castings have the ability to be hammered, stretched or drawn without breaking.
Ductile iron is generally used to produce cast iron pipes, such as those that are used in water and sewer lines. The metal has found variety of uses in different industrial applications, including - automotive, agriculture, irrigation, hydraulics, ventilation, and manufacturing.