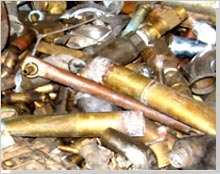 Bronze is one of the world's oldest alloys that dates back several hundred years BC. Bronze and Brass are copper alloys, which means that they primarily contain copper with various other metals, such as zinc, tin, and lead to form a new metal in the form of bronze or brass. Some other metals can also be added, which depends on the uses and requirements of metal. Strength, corrosion resistance and appearence are some of reasons for the different types of brass and bronze.

Most people wonder about the difference between brass and bronze. These two alloys are very similar in so many ways, however in general, brass is believed to be a copper alloy, which generally contains more zinc; while bronze is usually thought of with regards to its tin content.
| | |
| --- | --- |
| Brass (Characteristics & Properties) | Bronze (Characteristics & Properties) |
| An alloy of copper and zinc, brass is yellow in color and often used as a substitute of gold. The metal has found uses in low pressure plumbing fittings (sometimes with copper), sink drains and fixtures (sometimes chrome plated to make it more decorative), car radiators, door knobs, and in trim hardware. | In appearance, bronze is very similar to brass except that it has a more coppery color than the yellow color of brass. Being an alloy of copper and tin, bronze is harder than brass. Hence, the metal has found uses in high pressure applications, such as water fittings, fire hose couplings, and for similar uses. |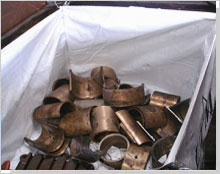 High Price ScrapMost people recognize the high price commanded by brass / bronze scrap. Indeed many people, after installing a new kitchen or bathroom, collect together the old taps and fittings and sell them to their local scrap merchant in order to recoup some of their expenditure. The reason for such a high price paid for brass / bronze scrap is due to the fact that it is essential to the economics of the brass / bronze industry.
Brass for extrusion and hot stamping is generally made from a basic melt of scrap of standardized composition - adjusted by the addition of small quantities of virgin copper or zinc as needed to meet the specification before pouring. The use of brass scrap bought at a considerably lower price than the metal mixture price means that the cost of the fabricated brass is significantly less than it might otherwise be.
Types / Grades Different grades and varieties of bronze and brass scrap are used for recycling and to recover pure metal from the scrap. Given in the table below are some of the important grades / types of bronze / brass used in recycling -
| | |
| --- | --- |
| Grades | Details |
| Mixed Brass & Bronze | This grade comprises of assorted clean brass and bronze solids. |
| Refinery Brass | It consists of a minimum of 61.3% copper and a maximum of 5% iron. It also includes copper, brass and bronze alloyed metal. The grade should be free of non-metallic materials. |
| Red Brass Solids | It includes red brass solids scrap and may consists of valves, machinery bearings and other red brass solids, consisting mainly of copper with tin/lead/zinc alloys. |
| Red Brass Turnings | It consists of borings, turnings and grindings from red brass solids. |
| Old Yellow Brass | It includes sheet, tubing, rod and castings, including plated materials. It should be free of aluminum bronze or manganese bronze. |
| New Brass Clips | It consists of unleaded yellow brass clippings including 70/30 clips. |
| Yellow Brass Turnings | It consists of yellow brass turnings, grindings and borings. |
| C Metal | It consists of sorted red brass plumbing cocks. |
| C&F Metal (cocks & faucets) | This grade comprises of mixed clean red and yellow brass plumbing cocks and faucets, including nickel/chrome plated parts. It should be free of zinc die cast and aluminum parts. |
| Clean Auto Radiators | It includes iron free mixed copper / brass automotive radiators. It may not include aluminum radiators. Typical composition is 70 % copper, 3-3.5 % tin, 7-8 % lead and 10-11 % zinc. |
| Unclean Auto Radiators | It comprises of mixed copper / brass automotive radiators with iron frame or supports still intact. It may not include iron finned rads or aluminum rads. |
| Heater Cores | It comprises of clean copper / brass automotive heater core radiators. |
| Aluminum Bronze Solids | It comprises of aluminum bronze alloy solids with a typical analysis of 78-90% copper, 1-5% iron, 8.5-11.5% aluminum and may include up to 5% nickel. |
| Aluminum Bronze Turnings | It comprises of aluminum bronze alloy turnings, grindings or borings. |
| Nickel Silver Solids | This grade comprises of clean nickel / silver alloys and includes sheet, rod and castings. It may not include other alloys or foreign materials. |
| Nickel Silver Turnings | It includes nickel / silver alloy turnings, borings and grindings. |
| Manganese Bronze Solids | It comprises of manganese bronze alloy scrap with a minimum of 55% copper and a maximum of 1% lead. |
| Manganese Bronze Turnings | This grade includes turnings, borings or grindings of manganese bronze alloy scrap. |
| Brass Wire Nodules | It comprises of clean brass wire nodules from a chopping or shredding operation. |
| Clean Brass Wire | It comprises of clean brass wire free of aluminum and other foreign materials. |
| Insulated Brass Wire | Insulated brass wire consists of plastic insulated brass wire. |
| Mixed Wire Connectors | It includes mixed coated (plated) and uncoated electrical wire connectors. |
| Brass & Bronze Dross | Brass and bronze dross include brass and bronze slags and skimmings from melting operations. |
| Irony Brass & Bronze | It includes brass and bronze solids with a maximum iron content of 10%. |
| Other Brass & Bronze | It includes brass and bronze materials, which are nor included in other grades. |
Scrap Brass & Bronze Recycling - Industry Associations
American Bureau of Metal Statistics
Canadian Association of Recycling Industries (CARI)
Institute of Scrap Recycling Industries (ISRI)
British Secondary Metals Association
Minerals, Metals & Materials Society (TMS)
Scrap Brass & Bronze Recycling - Publications
Recycling International Magazine
Scrap (Magazine)
AMM - American Metal Market
Modern Metals