Ship breaking activities involve breaking of old obsolete / damaged ships to recover pure metal (primarily steel) and other items.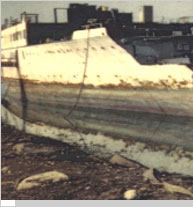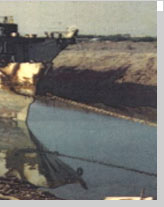 Steel scrap from the damaged and demolished ships is a primary source of raw material for the re-rolling mills. Generally at least 70 % of the overall light displacement tonnage of a broken ship comprises of re-rollable scrap. These are converted into rods and bars, which are used in construction applications.
Ship breaking scrap commands a very good price in the market. If prices express the preference of consumer, then there is a great preference for the ship-recycling scrap. This is due to the high quality of steel, which comes in the form of re-rollable scrap from ships. The general features of steel, which is used to design ships are - ability to withstand pressure, high impact and strain on account of severe cold. These features if translated into manufacturing of rods and bars may give us similar characteristics of steel with equal strength.
Ship breaking had been a regular commercial activity in some developed countries, such as UK, USA and Germany during in first half of last century, however after 1960, the activity has shifted from industrialized countries to other regions in Asia and Far East. Among Asian countries, actively involved in Ship breaking operations are India, Bangladesh, Taiwan, China, South Korea, Japan and Pakistan. India has emerged as a leading country in ship breaking business because of the huge demand of re-rollable and melting scrap steel and other items within the country.
The material refined from ship breaking scrap is superior in terms of yield strength, through thickness ductility, and notch impact strength. In terms of chemical composition, the material is consistent and has low sulfur and phosphorus content. In terms of metallurgical characteristics, steel from ships is normalized, fully killed and has finer and more compact grain structure, free from inclusions, cracks and pores and austenitic characteristics. Hence for all types of applications that require corrosion resistance, impact resistance, machinability, formability, bendability. Steel from ship breaking scrap has been found to be more worthy than steel from billets and ingots.
Process
Ship breaking operations are labor intensive in which discarded ships are beached during high tide and dragged towards the shore by shore based winches. The material that is physically removed from the discarded ships before its further breaking include: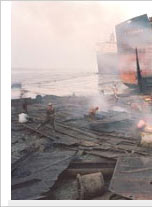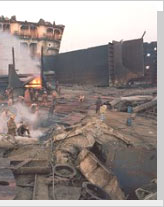 Removal of ballast water, lubricants, fuel oil, loose cables, electrical items,fire fighting equipment, ladders, window panel, frames etc.
Removal of movable gear, nylon and steel ropes, shackles, electrical navigation equipment, pulley blocks, paints and lubricant tins, tarpaulin, machinery, spares etc.
Removal of auxiliary equipment of prime mover machinery, such as diesel generator sets, boilers, air compressors, pumps, valves etc.
Dismantling of main engine in parts - head, main block, piston, bore and crankshaft. Removal of propeller, its shaft etc.
After the physical removal of these materials from ship, the steel structure of vessel is cut vertically by Oxygen-LPG into large blocks. The cut blocks are dropped on the beach / ground on either side of vessel and large dismantled pieces are pulled up to onshore yard, where they are farther cut up into small pieces for selling and sorting as steel scrap and re-rollable steel for recycling to steel and iron industry.
Grades/ Types
Different grades / types of Ship Breaking Scrap is used to recover pure metal through recycling. Important grades include -
Commmon grades of mill prepared steel that are recycled to recover pure steel are given in the table below -
| | |
| --- | --- |
| Grades | Details |
| Ships for Boat Breaking | It Includes whole scrap ships for dismantling or breaking. |
Ship scrapping generates various types and grades of scrap metal, typically called scrap species, which are bought and sold in scrap materials market. The scrap markets can be generally categorized in as those dealing in ferrous scrap and nonferrous scrap.
Ferrous scrap from ships comes from forgings and castings, framing, shell plating, deck plating and beams, pillars and girders, bulkheads, miscellaneous hull steel, foundations, and steel superstructures. Moreover, some structural steel outfit, doors and hatches, hull attachments, steward's outfit, deck outfit, hull engineering items, piping, and miscellaneous machinery come in the category of ferrous scrap.
While there are various types of nonferrous scrap, one of special interest is copper-yielding scrap (i.e., cuprous scrap). Cuprous scrap that has a number of subspecies, includes brass, bronze, and several other copper alloys. While copper and copper alloys constitute a small proportion of the total weight of the metals recovered from a ship, they bring a large fraction of the revenue because of their high value.
Ship Breaking Scrap - Associations
Institute of Scrap Recycling Industries (ISRI)
Minerals, Metals & Materials Society (TMS)
Canadian Association of Recycling Industries (CARI)
Southeast Recycling Development Council, Inc. (SERDC)
Ship Breaking Scrap - Publications
Recycling International Magazine
Scrap (Magazine)