A wide range of equipment and systems are available in the market that can not only meet your foundry needs, but can also automate common tasks, such as mold handling, mold pouring, casting finishing, casting inspection, and more
By automating routine tasks and systems within the foundry, various benefits can be achieved. Automation helps in improving the production and casting output. Robotic systems can be used to execute hazardous jobs such as pouring and degating, and thus help in removing personnel from these jobs. Automated systems also help in reducing the errors and providing the feedback about the errors if they do occur.
Types of Foundry Automation Equipment
Some of the common foundry automation equipment are -
Removals & pick off systems
Automated casting cleaning stations
Automated casting inspection stations
Automated casting pouring stations
Automated foam coating stations
Automated shell coating stations
Casting cleaning stations
Casting inspection stations
Foam coating stations
Core production lines
Robot cells
Handling systems
These different types of foundry automation equipment offer the benefits of reducing the number of personnel required to perform a specific job. While reducing the number of personnel to perform different tasks, automation also helps in maintaining the production and quality of output.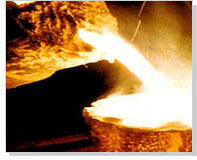 Along with new systems and sub-systems for different foundry tasks, automation controls are also available for existing systems. Technological advancements have enabled the engineers to develop centralized control panels that can be used to operate various pieces of equipment from one location. Through the use of a common control package, a single operator can monitor and control all system parameters. Once again, number of personnel can be reduced to a minimum.
Advantages
Use of automation systems in foundries has proved to be highly economical than other means. The main benefit of using automation systems in foundries lies in their flexibility - their ability to undertake a variety of other tasks and functions. It is a capital asset, which can be readily reconfigured to respond to changing needs and provide a practical way of automating an array of activities. Cooling the casting by spraying or dipping it, spraying the dies with a lubricant, placing the part into a trimming press - these are just a few of the many added advantages, which can be performed using automation systems. Some of the important advantages of office automation equipment are -
Helps in reducing the number of personnel required to perform a specific task.
Helps in determining the likely causes of production problems and problems.
Streamlining of production processes and operations.
Automated processes are precisely repeatable, ensuring consistency and improved productivity melt after melt.
Helps foundries increase productivity, reduce scrap castings, reduce operating costs and improve worker safety.
Results in steady improvement in manufacturing yield.
Realizing higher yield faster gives competitive advantage to foundries.
Future Outlook
The massive shift from iron to aluminum and other light alloys - for both ecological as well as economical reasons, foundries are investing heavily in advance machines and systems. With the aluminum content in vehicles increasing by 5.5 % each year, some 12 million metric tons of aluminum will be cast in 2010. To address this workload, a large number of foundries will be required to built annually across the world.
With the need for the development and setup of new foundries, the future looks bright for foundry automation equipment industry. According to experts, the decreasing cost of automation systems, and the desire of companies to stay competitive, means that even small shops are adapting automation, especially for applications that involve repetitive processes. Generally, aluminum die casters who are in high production are the most advanced in this domain.
Labor cost reductions and product quality and consistency are among the primary reasons for the metal casters to adopt automation systems. The ergonomic benefits, which robots provide are a more specific comment on the possibilities of automation, and the difficulties of metal casting activities.